THE BEST PRICES DIRECT TO THE PUBLIC
TRADING AS NORMAL - PLENTY OF STOCK FOR SALE
Thanks to all our customers expressing concern about us, in regards to recent flooding events. Fortunately we have come through relatively unscathed and have a good supply of quality plants ready for sale right now.
Australian Native Grevillea, Callistemon, Melaleuca, Banksia and much, much more. Beautiful Flowering Plants delivered to you throughout Eastern Australia ( NSW, QLD, ACT and VIC).
Quality Native Plants supplied in 50mm square x 120mm deep tubes.
A Minimum Total Order of 25 plants is required. Any amount of each species, so mix them up any way you like!
ORDERS ARE DISPATCHED ON TUESDAY EACH WEEK, SO
PLEASE PLACE ORDERS BEFORE 8am (AEDST) MONDAY FOR DISPATCH THE NEXT DAY
BULK BUYING DISCOUNTS
Boxes can be made up of any number of any available species 5% off for 1 to 5 boxes (66 plants per box). 10% off for 5 boxes or more!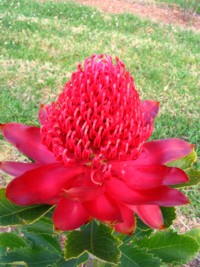 Join the thousands of satisfied customers who, over the last 20 years, have bought our Native Tubestock Plants and had amazing results with high survival rates and amazingly quick establishment of their plants. Scroll through these Testimonials to see why our customers always come back for more!
Testimonials
"We have bought plants from all natives 5 x now, We have found their service outstanding and their plants of an excellent superior quality, looking forward of our next delivery. Thanks Greg" - G.B (Peakhurst)
"We were so impressed with our first order, we have just ordered another box of plants. The plants are healthy and arrive in great condition. Our first plants are thriving! We have told our friends how great you are :-)" - A.H (Burua)
"I am so grateful for the simplicity of browsing and ordering beautiful native plants from AllNatives and having them arrive reliably and in great condition soon after. I very much look foward to the planting day that follows..." - E.A (Cannon Hill)
"I don't often write comments, but........ The service and quality of the product is outstanding. I have tried other online plant retailers and Allnatives is streets ahead. Within a couple of days of the plants being in the ground (and I open the box and plant the next day) these plants are clearly "taking off". Some plants have doubled in size within the week. Will continue to use Allnatives for my plants. Kendall" - K.S (NEWEE CREEK)
"My trees from AllNatives arrived in perfect condition and much sooner than I expected! Thanks for an exceptional service- can't wait to get Planting this weekend." - J.M (Dutton Park)