THE BEST PRICES DIRECT TO THE PUBLIC
CHRISTMAS ~ NEW YEAR TRADING
Last Orders for 2021 will be sent on 7th Dec. (Must be ordered and paid for before 7th Dec.) Deliveries will recommence again around mid-January 2022.
Australian Native Grevillea, Callistemon, Melaleuca, Banksia and much, much more. Beautiful Flowering Plants delivered to you throughout Eastern Australia ( NSW, QLD, ACT and VIC).
Quality Native Plants supplied in 50mm square x 120mm deep tubes.
A Minimum Total Order of 25 plants is required. Any amount of each species, so mix them up any way you like!
ORDERS ARE DISPATCHED ON TUESDAY EACH WEEK, SO
PLEASE PLACE ORDERS BEFORE 8am (AEDST) MONDAY FOR DISPATCH THE NEXT DAY
BULK BUYING DISCOUNTS
Boxes can be made up of any number of any available species 5% off for 1 to 5 boxes (66 plants per box). 10% off for 5 boxes or more!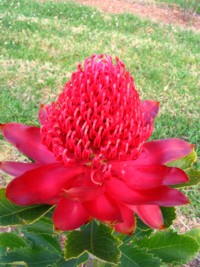 Join the thousands of satisfied customers who, over the last 20 years, have bought our Native Tubestock Plants and had amazing results with high survival rates and amazingly quick establishment of their plants. Scroll through these Testimonials to see why our customers always come back for more!
Testimonials
"My first order was the selection of rockery plants plus a few extra which I liked the look of. My gardening history was patchy to put it mildly and some of the extras didn't make it because they weren't right for the area. But with the quality of the rest of the plants and the support, I have a flourishing and very attractive garden bed. So, I've ordered again but chose all my own this time. I'm even planning to try and grow waratahs! I've had so much enjoyment from selecting plants from the website and find the information offered exactly what I need. And the tubestock are all so healthy and fine when they arrive. Very happy with AllNatives Nursery." - D.K (MARRICKVILLE)
"Just received my latest order from All Natives and very happy with plants n packing. 50mm tube plants were all of good size ... some 30cm high, very healthy. All potted up for growing on before planting in Autumn." - D.M (Daisy Hill)
"Good website, great plant selection and friendly people. The plants arrived promptly - even here on FNQ. They were in excellent condition and more developed than expected. Value for money! I will definitely buy again." - C.P (LAKE EACHAM)
"We have purchased native plants from AllNatives four times now...and will continue to do so. Thanks for offering healthy plants at reasonable prices. They offer a fantastic service to us who live in the BUSH:)Keep up the wonderful work." - F.K (CAPELLA)
"Plants arrived today at 11.30am, safe and sound and look to be of great quality, two day transport........GREAT" - P.M (CRANLEY)