THE BEST PRICES DIRECT TO THE PUBLIC
COVID-19: At present all online orders are being processed as normal, however customers in VICTORIA should only choose FASTWAY (if available) until restrictions ease, so as to avoid excessive AUSTRALIA POST delivery delays.
PLEASE NOTE - We will not be attending any of the Lismore Showground markets at this stage.
Stay safe everyone!
Australian Native Grevillea, Callistemon, Melaleuca, Banksia and much, much more. Beautiful Flowering Plants delivered to you throughout Eastern Australia ( NSW, QLD, ACT and VIC)
ORDERS ARE DISPATCHED ON TUESDAY EACH WEEK, SO
PLEASE PLACE ORDERS BEFORE 9am MONDAY FOR DISPATCH THE NEXT DAY
Quality Native Plants supplied in 50mm square x 120mm deep tubes
* Minimum Total Order of 25 plants is required. Any amount of each species, so mix them up any way you like!
BULK BUYING DISCOUNTS
Boxes can be made up of any number of any available species 5% off for 1 to 5 boxes (66 plants per box). 10% off for 5 boxes or more!
Great Gift Ideas ...Made Easy!
Buy
GIFT VOUCHERS
for your family and friends or you can choose one of our new
SELECTION PACKS
and use your friends address as the Delivery Address. Members can have a total of 5 delivery addresses linked to their Account and they can be changed at any time.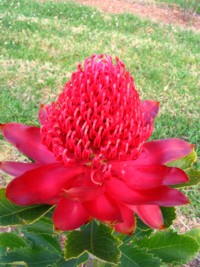 Join the thousands of satisfied customers who, over the last 20 years, have bought our Native Tubestock Plants and had amazing results with high survival rates and amazingly quick establishment of their plants. Scroll through these Testimonials to see why our customers always come back for more!
(scroll to see more...)
"at last!!...an online nursery relevant to our climate. Plants arrived in excellent condition within two days. Absolutely excellent thoughtful service of destination and dispatch date." - J.W (Telegraph Point)
"Hi Daryl, You recently sold me 380 native tubes. I have never had such quality plants in such a good condition and with such a variety of plants and the price was great. Many thanks again, I am a very happy customer. Cheers Alan" - A.M (FIG TREE POCKET)
"Just wanted to say 'thanks' for the speedy, efficient dispatch of my plants. They were delivered around 7:00 am today. Must say also that they appear to be the healthiest tubes I have ever bought (we have a small cut flower farm and have bought hundreds of tubes over the last 20 years). Once we get this lot planted I will be back to order more." - N.L (Korora)
"I recevied my plants on Saturday, all in good condition, planted them today (Sunday). Happy customers, will keep you posted as to hoe the plants are thriving." - M.R (HIGHTON)
"I recently bought 60 little shrubs. They arrived in good condition . I planted them this weekend just gone and found they had good root systems. Checked them late this afternoon and they are going very well. Looking good and settling in well. Very happy with this nursery and my purchase." - M.P (Bogan Gate)