* save * save * save * save * save *
THE BEST PRICES - DIRECT TO THE PUBLIC
CHRISTMAS/NEW YEAR TRADING
Last order dispatch for 2023 is on Tuesday the 12th.
First order dispatch for 2024 will be on the 9th January
Please keep this in mind when ordering.
Australian Native Grevillea, Callistemon, Melaleuca, Banksia and much, much more. Beautiful Flowering Plants delivered to you throughout Eastern Australia ( NSW, QLD, ACT and VIC).
Quality Native Plants supplied in 50mm square x 120mm deep tubes.
A Minimum Total Order of 25 plants is required. Any amount of each species, so mix them up any way you like!
ORDERS ARE DISPATCHED ON TUESDAY EACH WEEK, SO
PLEASE PLACE ORDERS BEFORE 8am (AEDST) MONDAY FOR DISPATCH IN THAT WEEK
BULK BUYING DISCOUNTS
Boxes can be made up of any number of any available species 5% off for 1 to 5 boxes (66 plants per box). 10% off for 5 boxes or more!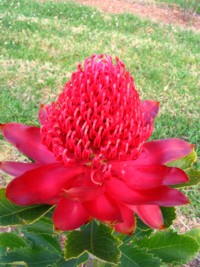 Join the thousands of satisfied customers who, over the last 20 years, have bought our Native Tubestock Plants and had amazing results with high survival rates and amazingly quick establishment of their plants. Scroll through these Testimonials to see why our customers always come back for more!
Testimonials
"My plants were received in good order and really well packaged. Nearly 4 weeks after putting them in the ground - all 25 plants are looking happy and healthy. One of the calistemons even flowered - very pretty. I am 100% happy with the service and I love the range of plants available here. I cannot wait to get some more. Keep up the great work." - C.N (Earlwood)
"We couldn't be happier with ALL the plants purchased from AllNatives Nursery! Love the well developed root systems that all have had & great growth rates after planting. Every order has arrived in great condition & pretty fast to our area in Northern inland NSW. Great selection of trees for our frosty cold/temperate (to hot dryish summers) climate here & variable soil types on our small farm. As there are both predominate westerlies or easterlies, it's fantastic to find a large selection of different heights/foliage/flowers in trees & shrubs to create some great wind-breaks for the future!" - D.L (TENTERFIELD)
"Our Christmas gift of 25 plants arrived yesterday. We are moving to a new property in 10 days. This will be the third property on which we have kicked off with a selection of Daryl's beautifully grown plants and then followed up with boot market purchases. The plants are so healthy and strong and they virtually jumped out of the ground. Thank you Daryl for your masterful skills with these babies, and we also greatly appreciate how promptly you deliver and the artful way in which you pack the plants for transport. Very happy Customers, Jennifer and Wayne Elliott" - J.E (FOREST LAKE)
"Waiting on stock to order, but my online inquiry was answered quickly and with the information I needed. Looking forward to ordering!" - P.M (MOUNT LOFTY)
"This is the first time that we have purchased plants from this supplier. The plants were much more advanced than any tube stock that we have purchased before. The service was excellent and the plants arrived quickly and in perfect condition. We can highly recommend Allnatives Nursery." - J.G (GYMPIE)