Cat-proof-plants
Beautiful flowering plants that deter predatory cats by their prickly foliage. This allows small native birds to nest in peace.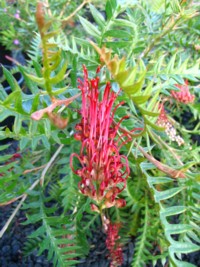 Dense and spectacular sprawling shrub with beautiful, deeply divided leaves and large, deep red tooth-brush type flowers most of the year. Great for covering steep banks.Grows under 1m high and sprawls to 2m+ in diameter.Frost resistant.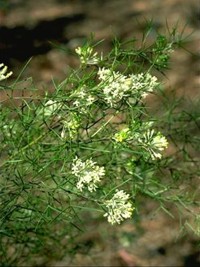 Ground-cover form with white flowers in winter and spring. Flowers have a strong cinnamon fragrance.Slightly prickly foliage makes it a great shelter from predatory cats for birds and wild-life.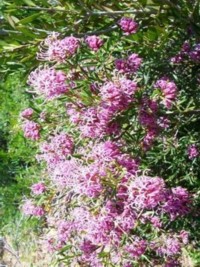 A very ,attractive, bushy, shrub which bears masses of mauve flower clusters most of the year. Has fine,dark-green foliage.Grows to 1.5m high.Frost resistant.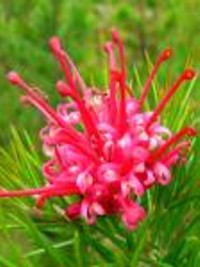 A spreading, medium sized shrub with prickly, narrow foliage.Bears masses of Pinkish-red flowers.Excellent for screens and is a great bird-attractor.Its prickly foliage protects nesting birds from cats .Grows to 3m high.Frost resistant.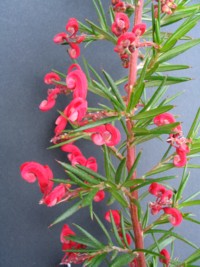 A vigorous,rounded shrub with masses of showy,rose-red flowers most of the year.Its dense foliage and slightly prickly foliage makes it a safe nesting site for birds.Can also be pruned into a formal hedge, if need be.Grows to 2.5m high.Frost resistant.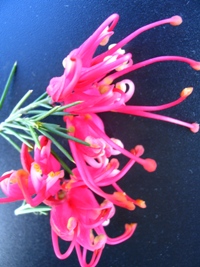 Dense shrub with deep green fine foliage which contrasts with the masses of deep-pink, spider-type flowers produced from Winter through to Spring/Summer.Frost Resistant. Grows to 3m high.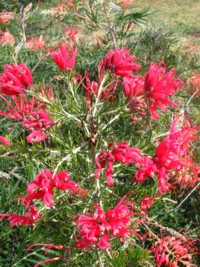 A terrific little shrub with very fine foliage and strongly contrasting, brilliant scarlet coloured flowers.Grows to 1m high.Frost resistant.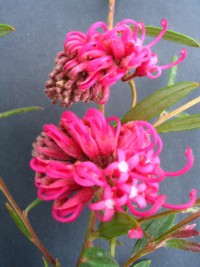 Beautiful,small shrub withdark green narrow leaves and deep pink spider flowers for most of the year.Grows to 1.5m high.Frost resistant.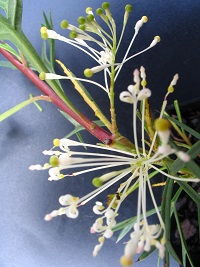 Vigorous and hardy shrub growing up to 3 m high. Prickly lime green divided leaves and delicately perfumed white flowers in Spring. Frost hardy.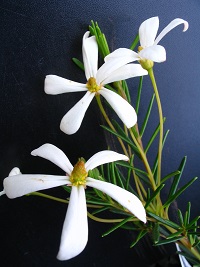 Showy upright shrub growing to 3 m high with bright green soft needle like foliage and masses of starry white flowers in Spring and Summer. Frost resistant.