THE BEST PRICES DIRECT TO THE PUBLIC
Australian Native Grevillea, Callistemon, Melaleuca, Banksia and much, much more. Beautiful Flowering Plants delivered to your door throughout Eastern Australia ( NSW, QLD, ACT and VIC)
ORDERS ARE DISPATCHED ON TUESDAY EACH WEEK, SO
PLEASE PLACE ORDERS BEFORE 9am MONDAY FOR DISPATCH THE NEXT DAY
Quality Native Plants supplied in 50mm square x 120mm deep tubes
* Minimum Total Order of 25 plants is required. Any amount of each species, so mix them up any way you like!
BULK BUYING DISCOUNTS
Boxes can be made up of any number of any available species 5% off for 1 to 5 boxes (66 plants per box). 10% off for 5 boxes or more!
Have a look at our great Specials, including 25% off our Hoop Pines. We have 1000's of Hoop Pines ready to plant now and will negotiate prices for 1000+. Call or email us.
Great Gift Ideas ...Its Easy!
Choose one of our new
Selection Packs
and use your friends address as the Delivery Address. Members can have a total of 5 delivery addresses linked to their Account and they can be changed at any time.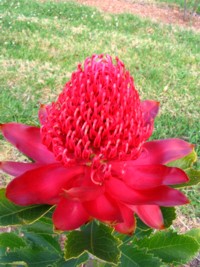 Join the thousands of satisfied customers who, over the last 20 years, have bought our Native Tubestock Plants and had amazing results with high survival rates and amazingly quick establishment of their plants. Scroll through these Testimonials to see why our customers always come back for more!
(scroll to see more...)
"My tubestock of Eucalyptus arrived several weeks ago and was pleased in the condition of the plants. I potted them on and today planted them in my creek to revegetate it. I am the president of our local gardening club and would recommend this nursery." - G.M (Bellingen)
"I regularly buy plants from AllNatives at Lismore Carboot Market. Their plants are always great quality and transplant easily and grow happily, with very little maintenance. I've had great pleasure watching them grow and attract native bees, butterflies and birds in my garden. Highly recommended!" - D (Lismore)
"I recently bought 60 little shrubs. They arrived in good condition . I planted them this weekend just gone and found they had good root systems. Checked them late this afternoon and they are going very well. Looking good and settling in well. Very happy with this nursery and my purchase." - M.P (Bogan Gate)
"We have purchased native plants from AllNatives four times now...and will continue to do so. Thanks for offering healthy plants at reasonable prices. They offer a fantastic service to us who live in the BUSH:)Keep up the wonderful work." - B.&.F.K (CAPELLA)
"My plants were received in good order and really well packaged. Nearly 4 weeks after putting them in the ground - all 25 plants are looking happy and healthy. One of the calistemons even flowered - very pretty. I am 100% happy with the service and I love the range of plants available here. I cannot wait to get some more. Keep up the great work." - C.N (Earlwood)